Understanding Your Home Inspection Report
Home inspections often take place before buying or selling a property, but an inspection at any time will provide useful information about the state of a home — and maybe even alert you to potential problems before they become more difficult and expensive to resolve.
Your home inspector will provide you with an inspection report: A document that describes the current status of your home and highlights potential concerns. This report can serve as a valuable reference that can help you care for and maintain your home for years to come. It is important to understand what information the report contains – and what information it does not.
Home Inspection Tour PDF
View, download, or print our Home Inspection Tour PDF as a quick reference for the areas checked during a home inspection.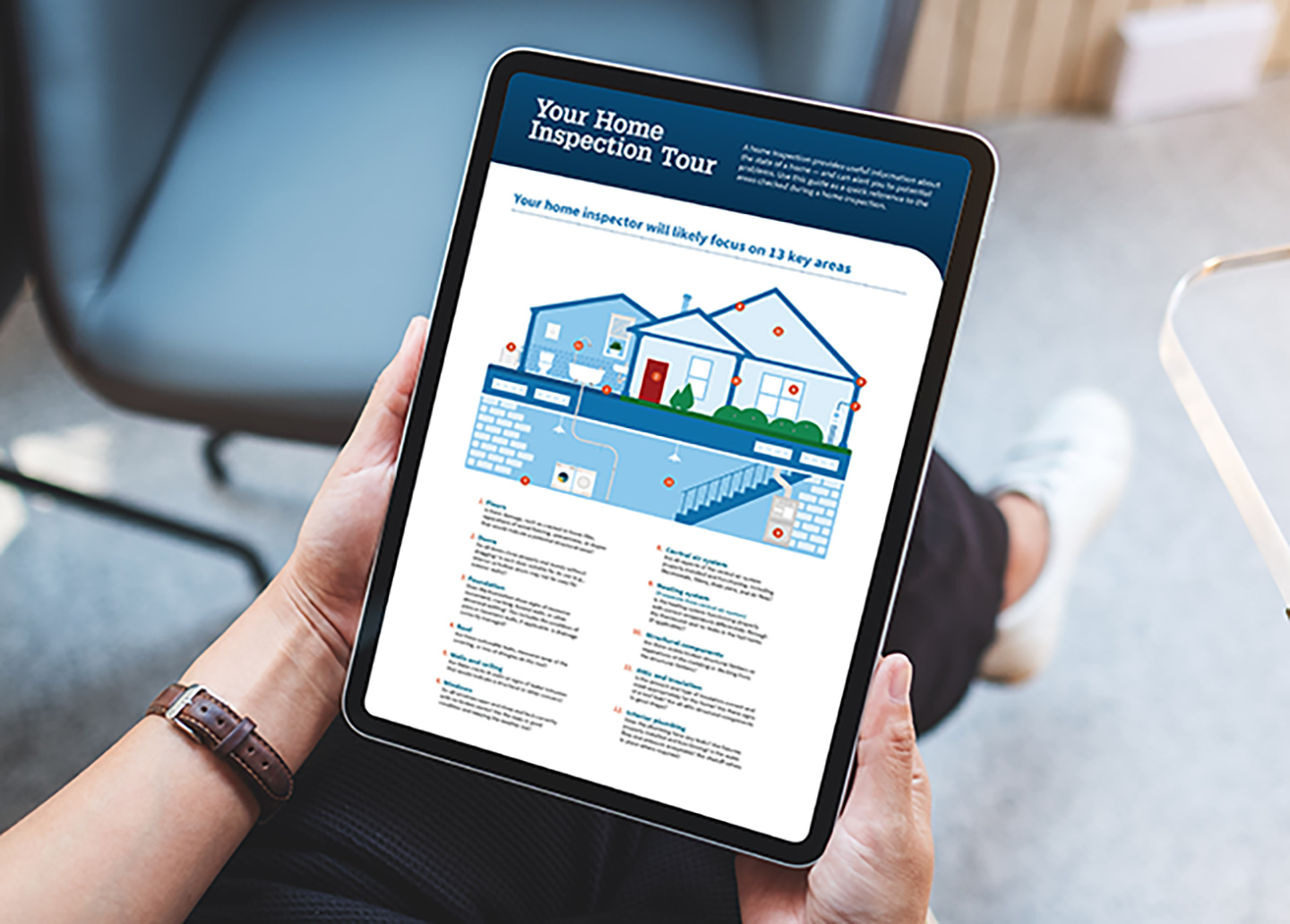 What's included during an inspection
Your home inspector will likely focus on 13 key areas.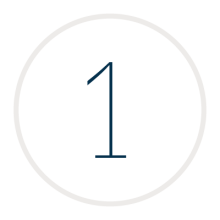 Floors
Is there floor damage, such as cracked or loose tiles, separations of wood flooring, unevenness, or slopes that would indicate a potential structural issue?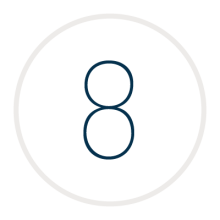 Central air system
Central air systems are checked for proper function. Temperature differentials are tested through the thermostat, and the inspector checks for filters, drain pans, air flow, and overall proper installation.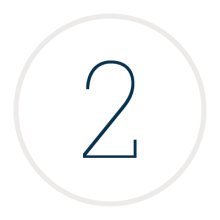 Doors
Do all doors close properly and evenly without dragging? Is each door suitable for its use (e.g., interior or hollow doors are not to be used for exterior walls)?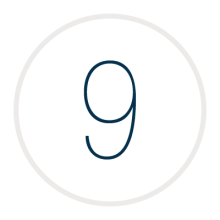 Heating system (if separate from central air system)
Heating systems are checked for proper function by testing temperature differentials through the thermostat and checking the overall condition of the system, including any fuel tanks (if applicable).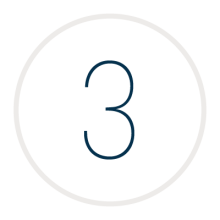 Foundation
Does the foundation show signs of excessive movement, cracking, bowed walls, or other abnormal settling? This includes the condition of piers or basement walls, if applicable. Is drainage correctly managed?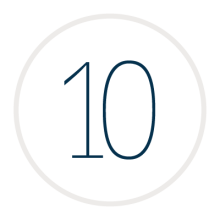 Structural components
Are there visibly broken structural timbers or separations of the cladding or decking from the structural timbers?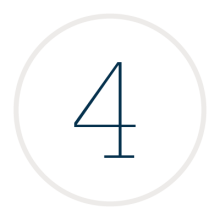 Roof
Are there noticeable leaks, excessive wear of the covering, or loss of shingles on the roof?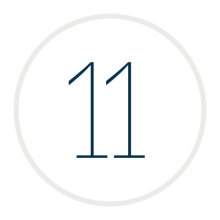 Attic and insulation
Is the amount and type of insulation correct and sized appropriately for the home? Are there signs of a roof leak? Are all attic structural components in good shape?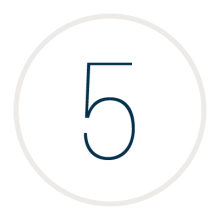 Walls and ceiling
Are there cracks in walls or signs of water intrusion that would indicate a structural or another concern?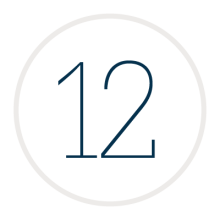 Interior plumbing
Plumbing is checked for leaks, proper fixture installation and function, water flow, and pressure. Shutoff valves must be in place, where required.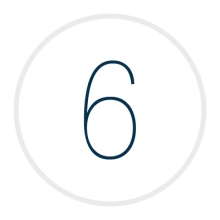 Windows
Do all windows open and close and lock correctly with no broken panes? Are the seals in good condition and keeping the weather out?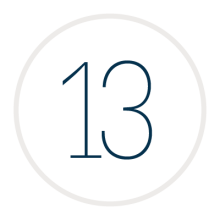 Basement (if applicable)
Are there cracks in the basement or signs of water intrusion that would indicate a structural concern, improper water management, etc.?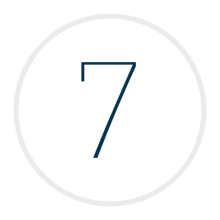 Electrical
A home inspection is not a full electrical inspection, but inspectors will confirm there is adequate space for all breakers and check outlets for ground, open neutrals, no double tapped circuits, arc fault, and GFCI protection.
Excluded from your inspection
Your inspection report is only required to contain certain details about your home. It is important to keep in mind the things you should not expect to find on your report. If you are concerned about certain areas or systems in your home that are not usually covered by a general inspection, you may want to consider hiring a specialist to inspect.
Elevators
Detached buildings, decks, docks, fences, waterfront structures, or related equipment
Anything buried, hidden, latent, or concealed
Sub-surface drainage systems
Concrete flatwork, such as driveways, sidewalks, walkways, paving stones, or patios
Automated or programmable control systems, automatic shutoff, photoelectric sensors, timers, clocks, metering devices, signal lights, lightning arrestor systems, remote controls, security or data distribution systems, solar panels, or smart home automation components
The presence or absence of pests, termites, or other wood-destroying insects or organisms
The presence, absence, or risk of asbestos, lead-based paint, mold or mildew, corrosive or contaminated drywall, or any other environmental hazard
Types of wood or preservative treatment and fastener compatibility
The cause or source of any condition
The cause or effect of deficiencies
Any of the following issues concerning a system or component:

Insurability or warrantability
Suitability, adequacy, compatibility, capacity, reliability, marketability, or operating costs
Recalls, counterfeit products, or product lawsuits
Life expectancy or age
Energy efficiency, vapor barriers, or thermostatic performance
Compliance with any code, listing, testing, or protocol authority
Utility sources
The inspection will not involve the operation of shutoff, safety, stop, pressure, or pressure-regulating valves or items requiring the use of codes, keys, combinations, or similar devices.
Designate conditions as safe
Recommend or provide engineering, architectural, appraisal, mitigation, physical surveying, realty, or other specialist services
Review historical records, installation instructions, repair plans, cost estimates, disclosure documents, or other reports
Verify sizing, efficiency, or adequacy of the ground surface drainage system
Verify sizing, efficiency, or adequacy of the gutter and downspout system
Operate recirculation or sump pumps
Remedy conditions preventing inspection of any item
Apply open flame or light a pilot to operate any appliance
Turn on decommissioned equipment, systems, or utility services
Provide repair cost estimates, recommendations, or re-inspection services